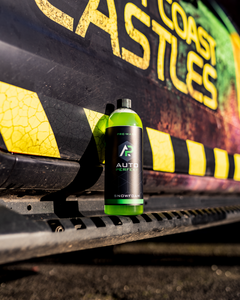 The Science Behind Snow Foam
Why Snow foam is an important weapon in your detailing arsenal 
The winter months can take a toll on your car, and grime and dirt can collect on your paintwork from rough roads and snow-covered streets. We all look for the best solution to deal with the season's weather with a good shampoo or a concentrated clean. There is a tool, however, that is overlooked by a lot of car enthusiasts. Here's why Snow foam could be that solution to your woes.
What Exactly is Snow foam?
Snow foam is a part of the pre-wash process. Its main function is to break up all the contaminants that collect on our car over time. Dirt, Grime, Traffic Film and even those pesky bugs that were unfortunate enough to cross paths with us on our journey.
It can be used alongside, or instead of pre-wash or Traffic Film Remover. It creates a lubricated barrier between the dirt and the paint. Removing the materials from the car, while keeping your paintwork nice and safe.
How do I use it?
It is applied using a Snow Foam Lance or a handheld pump. This helps to apply the coating effectively, without even having to get your hands dirty. Don't have a Lance or a Pump? We've got plenty stocked on our website for you.
First, you'll have to measure out the product with water. We recommend a 1:10 ratio, but don't be afraid to go a little higher if your car is extra dirty.
Next, you're applying the Snow Foam with your lance or pump. Remember to work from the top down to get everything off.
Let the foam sit on your car for around 5 minutes, as you sit back and watch all those contaminants slide of with ease.
Finally, rinse the car thoroughly and continue with your wash. Simple as that
How important is it?
Snow foam is a must in our opinion. The pre-wash process is the secret weapon in car detailing. Removing all the grime and stones can damage your car if not done correctly.
Snow foam is not just a seasonal thing, but is used throughout the year to keep you clean on the hottest or coldest days.
Why use our Snow foam?  
Buying the right Snow Foam is so important in car detailing. Buying the wrong product could make the whole process more of a curse for your car than a blessing. At AutoPerfekt, we've made the right one for you.
Our Snow Foam is not only super effective, but safe for all vehicles big and small. We use a Neutral PH formula which we developed over months thanks to our chemistry-based R&D team. We've also added our own lime zest so it smells and looks good. Our product is free from caustics and harmful detergents, which can be found in some other Snow Foams out there.
Worried about other coatings or waxes that are on your car? Worry no more. Our product is friendly with all other materials you may use on your paintwork.  If you want your car to have that spotless look while keeping it safe form the outside elements, we wholeheartedly recommend Snow Foam.
Still have questions? we've got you covered. Check out our Instagram and Tiktok for more tips on using Snow Foam, or send us your queries on Facebook or our website.  
---