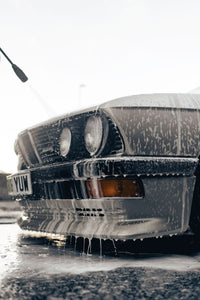 Five Products to Keep your Car Spotless During Winter
There is a constant battle between our cars and the elements. Always looking for ways to keep them safe during harsh storms and Winter months. Substances like salt and sleet can not only damage your paintwork, but decrease the value of your car. We at AutoPerfekt want to share with you a few things that could turn your car from spotted, to spotless. Here are five must-have products to keep your car clean during the worst weathers.
The Pre-Wash Process
It's always hard to find the motivation to clean your vehicle when you open your curtains to see the heavens have opened. A little hard work on your car, however, can go a long way. The one step that many of us miss out on, is a good pre-wash. A pre-wash is the most important aspect of a safe washing a vehicle, and it's a must-have during Winter months. It can help to remove all kinds of contaminants before you even begin the real wash. Substances like slush, sleet and snow can easily contaminate your paintwork. Road salts can even corrode your car's paint if it's not protected. Some of these won't come off with a standard wash.
Snow foam is another part of the pre-wash process. It creates a lubricated barrier between the dirt and the paint. Removing the materials from the car, while keeping your paintwork nice and safe. The good thing is while both are extremely effective, they don't even have to be used together.
We have designed our Pre-wash and our Snow Foam to work alongside LSP's so that your car is not only clean, but safe too.
A Serious Shampoo
Shampoo is the heart of the car wash process. Once you have completed your pre-wash, it's time to finish the job on all those pesky contaminants. Mix our shampoo with a bucket of water, and let the magic happen. Simple as that. A good shampoo will prevent smears forming when drying, too.
Our own formula is tough on dirt, but kind on paint. Like our Pre-wash, our shampoo is safe on ceramics and waxes that you may use for protection. Perfect for following up on your pre-wash or foam.
A Good Noodle Wash mitt
We all know that wash mitts make caring for our cars much easier, but it's important that you get the right one. Some wash mitts can even do more harm than good. We recommend a noodle wash mitt. Not only is it easy to use, but it is one of the safest wash mitts out there.
Our wash mitt acts as a pad to loosen any dirt or grime that refuses to budge. It's also machine washable to keep it nice and fresh for the next time you use it.
Closing with Quick Detailer
Quick detailer is what we call a maintenance product. It acts as the finishing touch to a freshly detailed car. It helps to provide a great gloss and makes certain of miniscule marring. It's a very popular product with both professionals and enthusiasts alike.
It's an extremely hydrophobic product, meaning it's the worst enemy of those water spots that are tough to remove. At AutoPerfekt, we use the most advanced materials in our Quick Detailer to make certain of clarity and cleanliness.
A Little Elemental Protection (And Style)
The car care process isn't just about the car. It's about you, too. Make sure you're wrapped up warm while you're out in the cold. Check out our Merch range and your car won't be the only one looking stylish. For our Perfekt Beanies, a portion of your purchase will go to charity, too!
Following these simple steps will help you to be ready for the harshest of weathers.
---