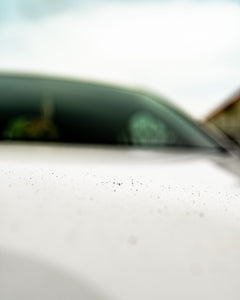 Defence Against the Desert Storm
As if our Scottish weather wasn't favourable enough, we are now being treated to a dust storm from the Sahara Desert that will affect most of the UK. This storm could mean some of us could wake up to an orange sky and a car caked in desert dust. This problem isn't fixed with a simple wash, however. Cleaning your car incorrectly after a dust storm can bring serious consequences to your paintwork, such as severe swirls and major marring.
Want to know the correct procedure when dealing with dust? Don't worry, we've got you covered. Here's our quick guide to cleaning your car after a desert storm.
Step One: Act ASAP
If you're going to clean your car, you need to do it now. Leaving dust and sand on your car over time can serious problems if left untreated. Every lift of your boot and grab at your door handle creates friction between the sand and the paint. Sand contains salt, which can corrode the metal under the paint if it finds a way through. It's like driving around in a big sandpaper box. We recommend booking it in with us or your nearest car professional, but we have the tools for you if you're taking the task on yourself.
Step Two: Avoid All Contact  
You come out your front door to see your precious vehicle covered in dust. Your inner child may feel the urge to write your name or draw a smiley face, but this can cause a lot of problems for your paintwork. During the washing process, you want to avoid as much contact as possible before the dust is washed away.
Step Three: The Pre-Wash Process
We at Auto Perfekt are always ranting and raving about how important a good pre wash. For this situation, a pre-wash isn't just important. It's essential. Both our citrus pre-wash and our snow foam are the perfect tools for this job. They will break up all of the sand and dust and wash it away. Using a good lance or a handheld pump, apply the product over your car and watch all those contaminants disappear. This not only covers the paintwork, but the wheels too.
Step Four: The Safe Wash
You now have the all clear to wash your car as normal, as long as you've made sure there's no more pesky sand to deal with. Our Auto Perfekt shampoo is a great follow up from the pre-wash process. If your car is heavy with dirt and grime, combine the shampoo and the snow foam for maximum effectiveness.
Step Five: Preparing for Retaliation
Now that your car is clean again, you'll want to make sure this doesn't happen again. Here are a few things you'll need to keep it covered should the desert treat us to another storm. First up is our Quick Detailer. A highly hydrophobic product that won't clog up the paintwork pores. A good wax or coating will provide good protection, too.
---